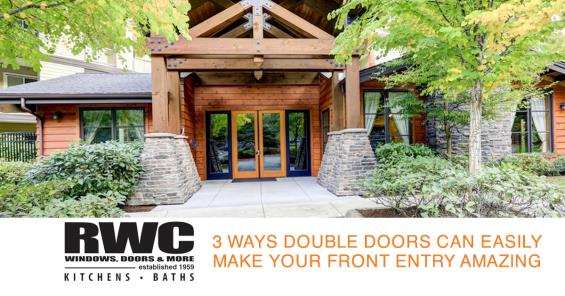 Double doors provide a distinguished look for your home. With the wider entrance to your home, it will become more accessible for guests and members of your household. Double doors can transform a boring, understated entryway and make it the focal point of your house. With options available to you from RWC, your home is going to look beautiful for a small, cost-effective investment. When you are ready to change your front doors and you want to know what your choices are, RWC can meet with you and talk about various designs that would work for your property.
The 
Advantages

 of 

Double

 

Doors

When you invest in double doors for your property, you will give your home a wider entrance. This will make it easier to move big items in and out of your home, and ensure that any guests with mobility issues will be able to get into your home with ease. Double doorscan be used to create a stunning entryway, no matter if your home is modern or traditional. The variety of options when it comes to double doors will give your home a unique look. Double doors are an affordable option when you want to make a big impact on the overall look of your home. You can choose double doors made of wood, fiberglass, and even metal.
RWC and 
Double

 Door Installation

An RWC employee will need to look at your front entryway to assess if there is a potential for double doors. If your current door is a single one, the transformation will require some light construction to widen the entrance. Together you will talk about your wishes for your front door, the look you are going for and the style you want your front entry to have. You and the technician will come up with a plan to make the front of your home look great for a price that you can afford.
Renovating Your Entry Door
There are a number of reasons to renovate your entry door. Whether you are bored with the look of your home, or you have substantial heat loss through your entryway door, renovating is the answer. If your current door is old, dented, or is no longer appealing, it's time to increase the value of your home with a good looking entry. Double doors are a great solution when you want to upgrade your property. The construction required to replace or fix your original door may be just as expensive as installing double doors instead. You can make the front of your home completely different with a few small changes.
To find the perfect double doors for your home, contact RWC Windows and Doors today at 973-435-4230, or visit our showroom at 686 Passaic Avenue, West Caldwell, NJ 07006.