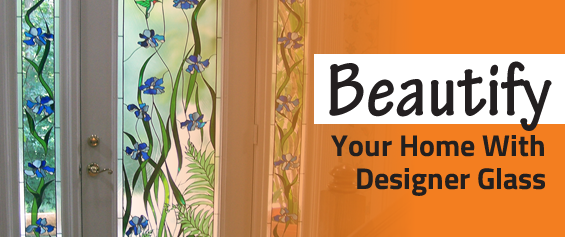 Every house has glass elements. Since they are so commonplace, we often overlook them. However, that is a mistake. Instead of just viewing the glass in your home as utilitarian, you need to start seeing it as an extension of your personality and your home's aesthetics. Adding designer glass highlights to your home is an easy way to create additional visual interest without breaking the bank. The following are some examples of ways to add designer glass to your home to increase its visual appeal.
Do not let the words "glass blocks" scare you. Although you may still have nightmares about the hideous frosted glass blocks that were popular in bathrooms in the 70s and 80s, glass blocks have come a long way since then. So, get that image out of your head and the frightened look off of your face. Today's glass blocks are modern, sleek, and innovative. They can break up a dark space to make it seem lighter; be used as a display piece, such as a vase, or serve as a room divider that doubles as a conversation piece. There is no shortage of ways in which glass blocks can add beauty and interest to your home.
Sliding glass doors are the traditional way to get from the inside of your house to a patio or other outdoor living area. However, these doors are normally just huge pieces of plate glass – totally boring. Your sliding glass door doesn't have to be dull and mundane. Try thinking about your sliding glass door as an extensive empty canvas. Replacing the original glass with some designer glass is the perfect way to add some style and personality to a seemingly bland background. The right designer glass can add a personal touch to an area, provide an excellent view of the outdoors, or even add some privacy indoors. The choices are endless and are only limited by your imagination.
Glass staircase
If you are looking to add an ultra-modern touch of flare to your home, consider installing a sleek glass staircase. A glass staircase can add light and dimension to a home. It can also give a smaller area the illusion of additional space. Glass staircases are the perfect excuse to use designer glass to make an ordinary space look grand by combining functionality with modern beauty. A beautiful glass staircase can dramatically change the way an entire room feels. So, if you don't have small children, swapping out your tired, old wooden or metal stairway for one made from designer glass could be a great way to give your entire home a face-lift.
If you are looking for a more subtle change than what you will get with a glass staircase, there are plenty of ways you can scale it down a bit. One way is to add some simple etched glass to your home. Etched glass can be added to both interior and exterior windows and will provide a lantern-like appearance when it is illuminated. It provides a milky-white appearance that cannot be penetrated. Using etched glass is a great way to add some privacy to a room without sacrificing the aesthetic appeal of the area.
Adding designer glass to your wet bar is a great way to show off your beautiful and colorful bottles of libations. If you look at your bar with a discerning eye, you will notice that it is a world full of varying colors and textures that are just waiting to be highlighted. Designer glass is the ideal material for shelving in your bar. The colorful liquids in the bottles will reflect off the glass and create a spectrum of colors that will be eye-catching to everyone who walks by. You can even turn it up a notch by switching out the commercial bottles for original containers such as bell jars and apothecary jars.
Add a backsplash in your kitchen
Nothing adds visual interest to a kitchen like a backsplash. Gone are the days when a backsplash was nothing more than ceramic tiles. Now, you can use decorative glass to create a magnificent mosaic. Painted designer glass serves as the perfect medium to create a backsplash that is charming as well as functional.
Your home should be an outward expression of your true self. Adding designer glass is an excellent way to turn your entire home into an object d'art. RWC has a wide variety of designer glass choices to fit every homeowner's style. Whether you are looking for something simple, like etched glass cabinet fronts, or something ornate like, a domed ceiling, RWC has you covered. RWC is a family owned company that has been in business since the 1950s. We offer a wide product selection and unparalleled service.
Contact RWC today. One of our representatives will be happy to assist you in finding the best designer glass to fit your needs.