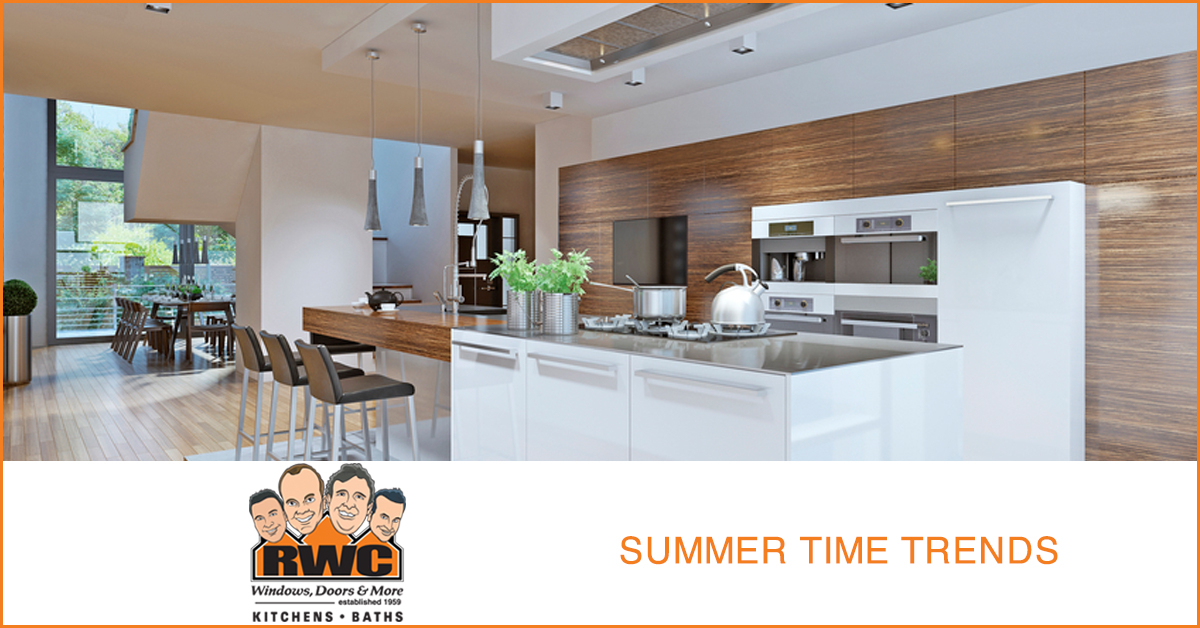 Summer is the time of year when people often feel inspired to renovate and remodel their homes. This makes a lot of sense since the nice weather and long hours of daylight means that projects will be much easier to complete – especially if they are outdoor projects. It's also the perfect time to take inspiration from nature and find ways to bring the outdoors in.
Modern lifestyles lend themselves to a constant flow between indoor and outdoor living spaces – especially in warm summer months when the transition between indoor and outdoor is most natural. But, that doesn't mean you can't find ways to bring that feeling of summer into your home to make you feel summer's warm glow all year long. We'll give you some ideas to take advantage of summer renovation trends that will update your style and how you feel in your home.
Put the Outdoors on Display
One of the easiest ways to bring the outdoors into your home is through the windows. Lots of natural light make a space seem bigger. If you can see trees and flowers through your windows, all the better. These days,replacement windows are more energy efficient than ever, and they offer customization options that provide both convenience and privacy. For example, perhaps you'd like to get windows with the blinds between glass panes so that you never have to worry about dusting them. It's an option that many homeowners find appealing.
Even if you are skipping window treatments, a good set of windows can add character and peace of mind. Thermal break and UV protection are important for protecting your floors, artwork, and furniture, and are both offered in modern replacement windows. Whatever your window choice may be, make each window a focal point. Pair them with wall colors that will evoke the setting of your home.
Bring the Indoors Outside
Nowadays it is much easier to get outdoor furniture that looks and feels like your cozy living room furniture, while withstanding the weather. Why not make an outdoor living area that you can use the same way you do your family room? Decks and patios are the perfect choice and can be easily customized. Awnings and pergolas can give shade and shelter, and a comfy seating arrangement on a bright sisal or other outdoor rug can give your entertaining space an intimate feel your family and friends will appreciate.
Play With Color
Paint color is an easy tool to use to bring the brightness of summer into your home year round. Pops of bright color can make a room cheerful, even on a grim winter day. Painting an entire room a bright color (especially some of the really hot summer colors like coral, teal, and cobalt) can be overwhelming. But, an accent wall or a colored pattern on a neutral background can really make a room come alive.
Go Beachy
Everyone loves the beach in summer, but sometimes it can be hard to incorporate the beach without it feeling kitschy. Ditch the kitsch, and bring that driftwood vibe in with cool neutral greys. Add a nautical edge with accents of navy. Brass accents  will provide you with a timeless but on-trend look you will love.
Want the look of weathered, sanded and reclaimed floors without the hassle and price tag of new hardwoods?  Choose laminate flooring in gorgeous, distressed grays. Or, to get the look without the worry of wood, choose a wood-look tile. It will be able to stand up to just about anything, including anything you bring back from the actual beach.
Go Bright White
There's something about summer that makes you want to get down to essentials and reduce the clutter of daily living. A bright white space lends itself to minimalism and calm. Kitchens and bathrooms especially lend themselves to the all-white design trend. Something about an all-white space transcends time-of-year and feels inherently clean.
Some Things to Remember
Before you remodel your kitchen, bathroom or any other part of your home, there are things you need to consider. Obviously remodeling in a way that is trendy is important for how you live and feel in your home, but always consider resale value. Be careful to not over-personalize your home in ways that aren't easily fixable when it comes time to sell. Someone else may not want to pay for the gadgets or pool you love when it comes time to make an offer. Paint is easy, and certain built-ins will always be on trend, but check out our handy guide before you make a costly mistake in your renovations.
RWC has been relieving home improvement stress since 1959. Call us today or visit us on the web for your free consultation!