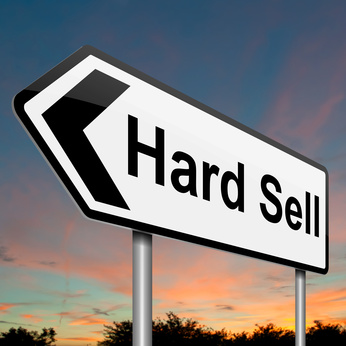 A common mistake companies make when marketing their products or services to gain new customers is to approach their target consumers with aggressive sales tactics. Year after year these aggressive forms of marketing are having the opposite effect. Some of these aggressive methods are inappropriate and downright rude. It makes you question whether or not these sales agents ever put themselves in the shoes of the consumer.
Would you ever give business to someone who you feel is harassing you? I wouldn't. In fact, I much prefer to seek business than to have business seek me. It can be argued that some of these methods are a form of psychological manipulation. If the main objective of marketing is to create customer value by building relationships through various methods of communication, then isn't it time to question the method in which that is being conveyed? Perhaps value needs to be examined from the point of view of the customer.
One of the industries that have been negatively impacted due to high-pressured sales tactics is the home renovations industry. The competition is high but the sales profits are low because of the vast number of businesses who are approaching consumers rather than consumers seeking the right fit for them. Consumers like to take their time and select what works best for them when shopping around to improve or renovate their homes. Home improvement companies should keep that in mind when reaching out to consumers for business and here's 5 reasons why:
1. When a customer wants to renovate their home, it is safe to assume that they are under the pressure of selecting the right quality of products, planning out the labor, and in most cases a tricky budget. The last thing they need is an exhausting sales agent at their door or on the phone. That should bring in to question the effectiveness of door to door selling or similar campaigning. Is it possible that the aggressive approach is to lock in the customer's sale before the customer shops around and learns that the pricing is way above the competition? Many home improvement companies will offer you a free estimate that becomes a 2 hour sales pitch to convince you to spend every last dollar you possibly can. Your customer may feel they are being tricked out of their children's college fund and turn you away.
2. Approaching someone aggressively creates a sense of false expectation. The aggressive approach seems to include promising a service or product that just sounds too good to be true. One of the key factors of marketing is building a trust between the company and the customer. If a customer doesn't believe in you, they won't believe in the product either. An estimate appointment should consist of a sales person really listening to what the customer needs, wants, and can afford. Then build an estimate based on what was requested in order to secure a sale rather than lose one for being too ambitious.
3. Knowing your customer and what they are used to or are comfortable with is key in landing a sale. According to Dr. Lars Perner, PH.D. of the University of Southern California who conducted a study on consumer psychology, some cultures tend to adopt new products more quickly than others. That should be kept in mind when pitching newer more expensive products to a customer. Pitching the bigger sale ticket items may scare them away. If you are looking for a higher sale, pitch newer products that resemble what they are used to only a bit more modern and functional. It shouldn't be a product that they don't understand at all or that is far from what they had in place already. Of course, if they are asking for a completely different look, this does not apply.
4. A more modern form of pitching products is through social media and email ads. Many companies tend to overload their profiles and websites with false pictures of products along with fake testimonials. Misrepresenting your company by featuring photos that are obviously stock photos can really hurt the chances of convincing a customer to trust in your business. Most consumers turn their attention away from a company that constantly posts these types of photos. They want to be able to relate to your previous customers and they can't relate to photos that don't seem real. When emailing ads, it is never a good idea to email potential customers dozens of times in one week. Most people are not interested in getting any more spam than they already do. In fact, you stand a grand chance that the email will be deleted without being opened.
5. Cold calling potential customer's homes has to be the absolute worst form of pitching to someone who is looking to renovate their home. Sales agents tend to forget that many industries use this method of marketing as well so the chances that the person you are calling has already been bothered at least one other time during the day are pretty good. Most people are not expecting a sales call when answering their phones so depending on your opening line, you may be at risk of being turned away immediately or even hung up on. If cold calling is the only option to get sales, be very mindful of sounding like you're reading from a script which creates a form of disconnect between the sales agent and the potential customer.