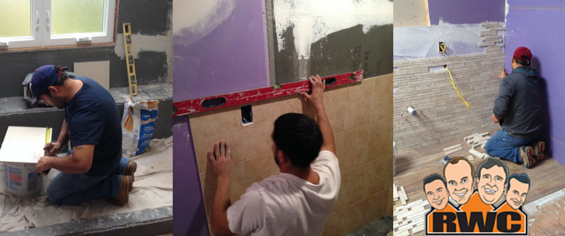 Although the temptation to take on a home improvement project by oneself is tempting, it is not always the best idea. Often it is better to hire a professional, such as those at RWC, rather than tackle an overwhelming do-it-yourself project. Keep reading to learn about why hiring RWC is the better choice.
1. Using RWC saves time
Even a simple DIY project can become problematic for a DIYer. For example, the effect of seemingly simple choices regarding the project can have huge and impactful consequences on the entire project. The professionals at RWC know the best decisions to make for any situations that arise. We can quickly assess any situation and take the most appropriate actions. There is no need for us to think and rethink every decision since our knowledge points us in the right direction.  Plus, our designers and other professional have access to the most current technological advances that enable us to complete the job in a more timely fashion.
2. RWC brings expertise to the job
RWC's professional home designers have lots of experience in redesigning people's homes.  One of the major functions we perform is to interpret and understand the needs of our clients and to create the perfect design plans to meet our clients' needs. We have a wide variety of resources that DIYers do not have access to. So, the process can move much more smoothly, and the finished product will look more polished when we take on a task. Further, we complete jobs within a defined budget. We also know how to deal with legal and technical issues that come up such as working with a municipality and acquiring the proper permits, working with the necessary surveyors, hiring contractors and subcontractors, and managing the entire project to make sure everything goes as planned. These tasks take lots of hours of research and planning to be accomplished well. Most homeowners do not have enough time to complete the tasks adequately since they are also trying to juggle their own jobs and family life as well. They are also often met with resistance from municipalities and workers along the way.
3. Hiring RWC can save homeowners money
Many homeowners decide to take on major home renovation projects as a way to save money. However, this idea is flawed. Often taking on a home improvement project can end up costing the average homeowner much more money than he or she originally planned and more than if RWC had been hired in the first place. Often supply stores and subcontractors offer discounts to home design professionals. Homeowners can feel the effects of these discounts in the final price that is paid for their work. On the contrary, homeowners are required to pay full-price for supplies when they do the shopping themselves, and even small increases in cost can add up quickly.
4. RWC knows the industry
The work that needs to be done during a home improvement project is often communicated in industry-specific terms. There are also a lot of blueprints and other types of drawings and schematics. The everyday homeowner who is not familiar with industry terms and drawings will have a have a hard time understanding the technical nature of the job, which can lead to the project taking more time and costing more money than was originally planned, not to mention it is much easier for a DIYer to make mistakes because of their lack of knowledge. The professionals at RWC are well-versed in every aspect of home improvement and know how to talk with contractors and workers on a technical level. We are also experts at reading and interpreting blueprints. So the likelihood of mistakes being made is greatly reduced.
5. RWC acts as an advocate for our clients
Home improvement DIYers often run into issues with contractors. It is difficult for DIYers to advocate for themselves when they do not have the same level of knowledge and expertise than a contractor does. On the other hand, homeowners who hire RWC have a built-in advocate. We can take control of a situation and act in the best interest of the homeowner. Contractors have a much easier time working with and taking direction from a home improvement professional rather than a DIY homeowner.
6. RWC has access to other qualified industry professionals
At RWC, we have many opportunities to work with other industry professionals. This is a boon for our clients when issues arise that require other workers. We have easy access to professionals ranging from structural engineers to painters. So whatever needs a home improvement project has, we can easily find another qualified professional to fit the job.
Even though it may seem like taking on a home improvement project on your own would be a good idea, it is always better to rely on the knowledge and expertise of a professional.  Hiring a home improvement professional, like your friends at RWC, can save you time, money, and a lot of frustration.
Contact RWC today to see how we can help you with your next home improvement project!