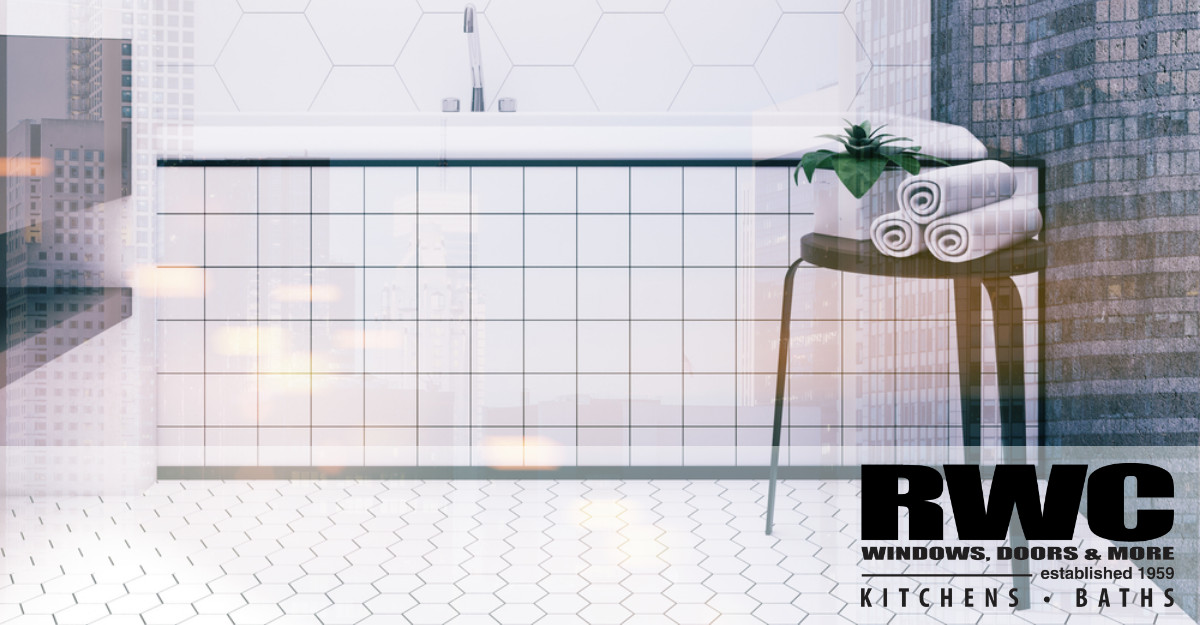 When you want to update your bathroom, the materials you use can have a huge impact. Bathroom tile trends for 2019 are bold in color and design, and don't fade into the backdrop of your bathroom. If you love color and new designs, 2019 is your year to change the look and feel of your bathroom. From long, sleek subway tiles to geometric patterns and shapes, bathroom tiles design is taking a big step forward. Tiles are versatile, and using one of the top bathroom flooring trends is going to make a statement.

Geometric Shapes for Your Bathroom Floor
You don't have to stick with squares or rectangles when it comes to your bathroom tile design. One of the new bathroom flooring trends for 2019 is to choose large or small hexagon shapes for your bathroom floor instead of squares. In some styles, the larger your hexagon shapes are the better, but designers understand that some spaces just can't handle large tiles. For smaller spaces, go with smaller hexagons to get a similar look.
The Fish Scale Tile
While fish scale tiles first came into popularity in 2016, the trend shows no signs of slowing down. Whether you want to use a bright, bold color for your fish scale tiles or a more neutral tone, this unique shape gives your bathroom a variety of design possibilities. You can choose a small fish scale tile for intricate work, or go with a large, oversized fish scale tile to complete the look of your bathroom.
Bright Colors For Your Bathroom Tile Floor
If you love color, then you are going to love this popular bathroom tile trend. You no longer have to go with black and white, or neutral colors that blend into your design. Bright colored floors are a design trend for 2019, and the bathroom floor is going to make a statement. Just make sure that you go with a color you love, as good ceramic tiles have a long life span.
Patterned Tiles in
Bathroom Tile Trends
There are so many types of patterns to choose from, and now you don't have to pick just one. Popular bathroom tile ideas now incorporate a variety of tile designs, all on the same floor. As long as the colors go together, or you opt for black and white designs, you can create a unique bathroom floor using patterned tiles that aren't identical.

Earthy Tones Are Also Trending This Year
Loud or bright colors just not your favorite thing? While bright colors are popular bathroom tile ideas, another way to go with a contemporary design is to use earth tones in your bathroom. Consider the use of deep brown that adds to the neutral flavor of a room. Tiles are expected to be more matte finish this year and not as glossy. With an earth toned bathroom, you have infinite options for decor.
Consider some of the top bathroom flooring trends this year when you design your bathroom. Design options include:
geometric or honeycomb shapes to add flair to the design.

fish scale tiles in a variety of colors.

bright colored tiles that bring creativity to your bathroom.

patterned tiles that aren't all the same.

earthy tones for a neutral looking space.
When you are ready to discuss popular bathroom tile ideas and remodel your bathroom, RWC Windows, Door & More is ready to sit down and plan to make your dreams a reality. If you live in West Caldwell, New Jersey, or the surround area, contact us today by filling out our online form or calling us at 973-227-7123.