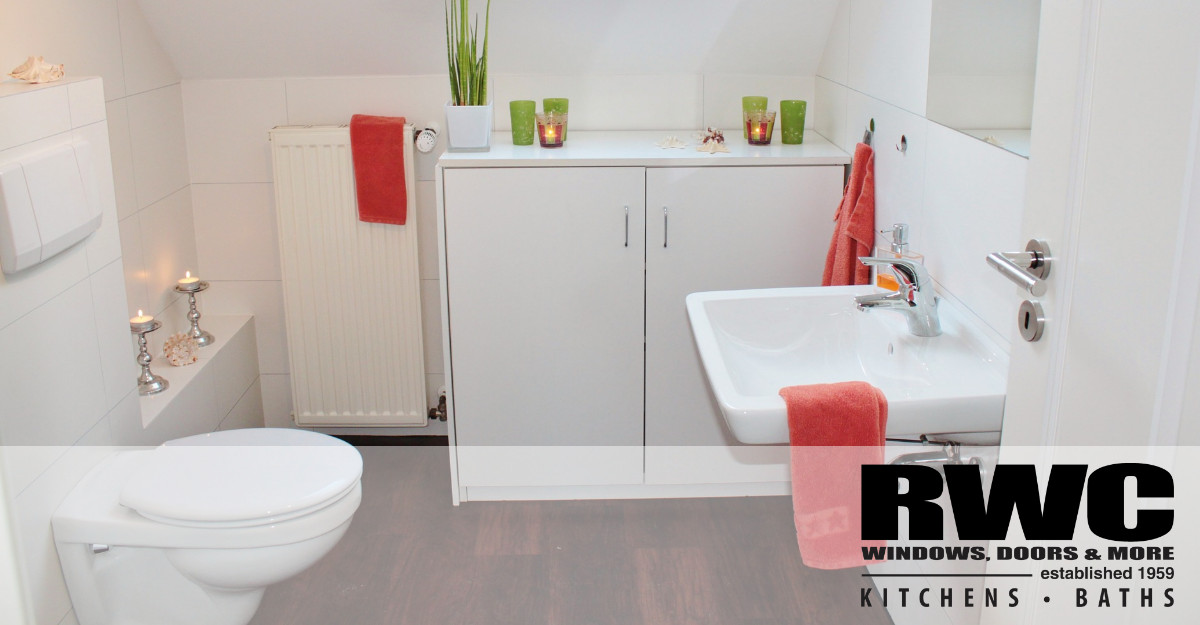 Introduction
If you have a small bathroom, it can be difficult to remodel. A small bathroom remodel requires even more attention to detail in layout, functionality and design scheme. If you're feeling stuck when remodeling your small bathroom, we've got the inspiration you need to get moving on your remodel.
When it comes to bathroom remodeling ideas for small spaces, you want to be sure you're only considering cost-efficient renovations that will make a lasting impact. Here are several small bathroom ideas on a budget that won't break the bank and will help you create the perfect space.
Balance Form and Function
The primary concern with all small bathroom decorating ideas is intertwining form and function. While you don't need every single thing in the bathroom to be practical, you need to pay more attention to what's necessary and what's just taking up space. First of all, anything you can store in another room should vacate the bathroom. It's important to keep a small bathroom clean, or it can get cluttered quickly. Decorations that don't serve a purpose might need to be nixed, and creating as much hidden storage space as possible is a must. With that said, creating an overall theme is essential in a small bathroom. It creates a flow throughout the room without feeling cluttered.

Optimize Usable Space
With a small bathroom, you have to be strategic. If you have the ability to remodel fixtures, consider installing a corner sink to maximize space. Think about hanging cabinets (or even a vanity) on the wall to use the empty space, and use the door for towel bars or hooks. If your small bathroom has a shower or tub, a shower curtain saves more space than a door. If you have room for a mirror, a larger and longer mirror can make the space seem bigger.
Look Up!
Just because a room is small doesn't mean you can't incorporate your style into the space. When thinking about design, a vertical tile pattern or wallpaper draws the eye up, making the space seem larger. Create contrast between colors, use lighter tones, and keep the room well-lit. Don't be afraid to play with color and pattern in this type of space. Using larger scale patterns is just one of the ideas for bathroom remodeling that can make your small bathroom seem bigger.
If your room has a window, try not to cover it with any decorations, and use shorter curtains to make it seem larger. Small potted plants are a great small bathroom decoration. If you're lacking counter space, getting a hanging plant for the ceiling is the perfect way to draw attention upwards. Shelves and storage baskets above the toilet or sink are also a great home project, and can create depth and height in a small room.
Shower Remodel Ideas
No one wants to feel cramped in the shower. To make this a relaxing sanctuary in a small space is tough, but doable. The first thing to start with is the shower curtain. The curtain should be fitting with the theme of your bathroom, whether that "theme" is something more elaborate (country chic, industrial) or simply a color.
Tall vertical shelves in the corner can help declutter, gives you room for all your shower products, and make it appear taller. Accent tiles and marble or stone patterns can highlight the area and give the illusion of a walk-in space in a shower. Depending on the size of your bathroom, you may have enough room for a small tub-and-shower combination.
Better Home & Gardens curated this list of small bathroom designs with showers that stand out. Browse it for some more shower inspo!
Remodeling Projects In Small Spaces
It doesn't deserve to go unsaid that a remodeling project is an inconvenience for the homeowner. The fact remains, however, that the project is well worth the time spent. It increases your morning routine and your family's organization, and overall enhances your home's value. Small spaces can be frustrating, but if you tailor them to your specifications and incorporate some of these design ideas, you can make a bathroom you'll be proud of.
Important Takeaway Points
When remodeling a small bathroom, make sure you:
Balance form and function

Optimize usable space on walls, doors and floors

Think vertical

Keep with a theme

Focus on making your shower a relaxing space with shelves and accent tile
To discuss a possible bathroom makeover, give us a call at RWC to have a professional technician talk about what you need and want for your new bathroom, and offer quote as to how we can best service your needs. View our website to see small bathroom remodeling ideas before and after we conducted the job.