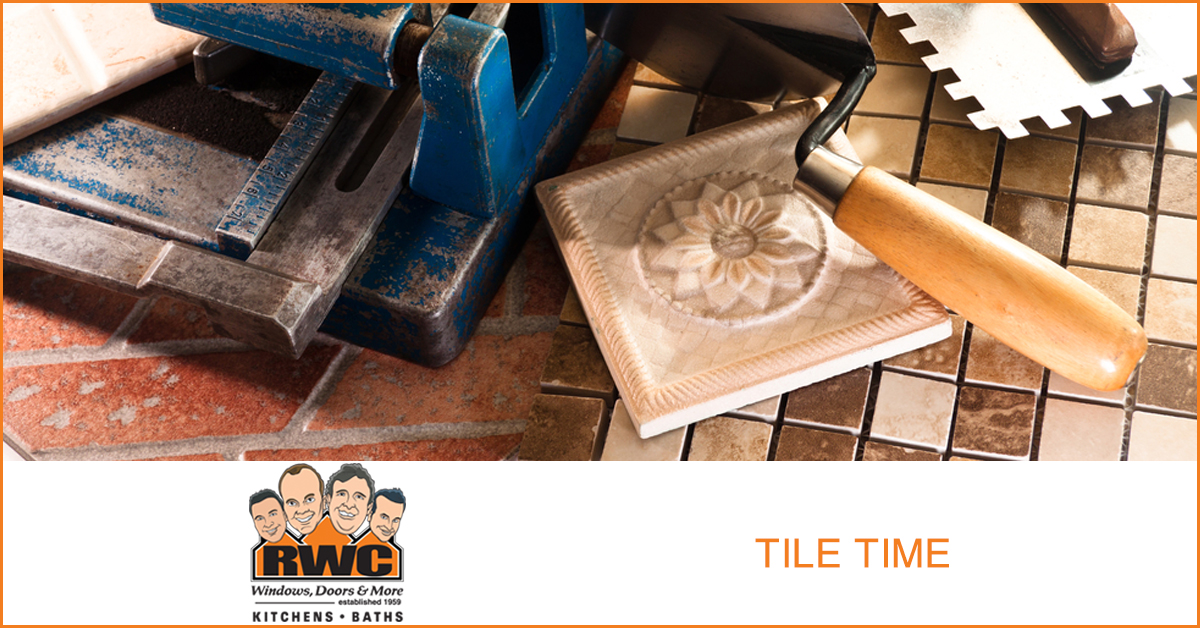 The clean, sleek lines of a newly tiled bathroom are something to behold. But, the process to get there may be obscured by the outdated tile and stained grout staring you in the face every morning as you shuffle in to get your day started. It is indeed time for a change, but where to begin? Let's consider three questions that may arise as you dream about this renovation.
What Are My Options?
Walk into any big box or tile store and the choices may just bury you in indecision. Material, color, shape, size and price swirl around your dazed expression. A bit of information might just help clarify things.
Material
A variety of tile materials gives remodelers plenty of room to customize their space. Some prefer the warmth of Travertine or the organic feel of slate. Each option has its unique look, feel and function.
Porcelain tile boasts a dense, hard surface that thrives in wet spaces due to its lack of absorbency. Glass tile offers a variety of colors and finishes, but brings shine for a polished look. On the other hand, stone gives a natural feel. Pebble and rock tiles add textural qualities to any space. Ceramic tile works well in wet environments. Plus, if your DIY itch takes effect after a few years, this tile receives paint well.
Color, Shape and Size
Today's tile displays host a wide range of color choices from gleaming white to a nearly mirrored black, from natural, earthy tones to bold sea glass blues. And, the variety of shapes rivals the color palette. Octagonal, hexagonal, two-inch smaller mosaic, square and rectangular tiles offer something for everyone.
The size of the shapes extends from pebble and penny tile to 18 by 18-inch floor tiles. Add to this array the pattern options that flow from these choices, and the possibility of a one-of-a-kind bathroom design becomes reality.
Price
You guessed it. Cost varies widely as well. Glass tile promises to be a bit more costly than other options. Though, in a smaller bathroom space or as an accent, this shiny surface may just be affordable. Ceramic tile proves slightly less expensive than glass and porcelain tile reigns king of the price tag. However, it is difficult to argue this royalty's noble qualities for the damp kingdom known as the bathroom.
Best for Bathrooms
Two tile qualities help assess which tiles do best in the bathroom: maintenance and traction. Porcelain and ceramic tiles work especially well in the wettest areas such as tubs and showers. Their easy-to-clean, stain resistant characteristics make them nearly maintenance free. And, they resist moisture.
Natural stone requires sealing and careful cleaning as its pores grab dirt. This tile fares best on floors or less wet areas. Finally, glass tile makes a beautiful statement as a border or edging, and wipes brilliantly clean. However, it is especially slippery when wet – definitely off-limits for the floor. But, using glass as an accent tile or on a wall produces the wow factor.
Other traction considerations exist as well. Be aware when shopping: Ceramic floor tiles are purposely designed with texture as opposed to their counterparts intended for walls. Grinding the surface flat rather than polishing makes honed natural stone a particularly good choice for slip resistance. Also, natural stones may be sandblasted for a similar effect.
Keeping you safely on your feet is the goal. Do not be deceived. Tile is slippery when wet. Choosing the right texture for flooring and shower tiles avoids accidents.
Where Would Tile Look Best in My Bathroom?
Where wouldn't tile look good in your bathroom? With the variety of tiling options, there is no bathroom surface this mainstay has not touched. Floors, walls, showers or tub surrounds, countertops and backsplashes have all been graced with the beauty of tile.
How Do I Choose the Right Colors and Patterns?
Scour the Internet for inspiration. Or, talk with the designers at a local tile store. The mix and match of tile sizes, colors and patterns adds interest. Just limit your choices to three and include only one focal point. This action creates a timeless style. Also, combine subtle colors with elements of interest for a serene feel.
Fitting Your Scheme
Your current decorating scheme affects your choice of colors and pattern. When determining your style, take into account any existing features such as a vanity, sink or light fixtures. Choosing a design and color of the tiles that complement these features guards against a mismatched look. Be sure also to make choices that you will not tire of over time.
Fitting Your Size
The size of the space you are remodeling also comes into play when making your tile decisions. Smaller bathrooms expand with light-colored tiles. For example, powder rooms prove inviting in soft pastels and neutrals. Larger spaces accommodate darker, saturated hues with more grace. Bright colors work well for bathrooms which receive a good deal of light.
Updating your bathroom tile proves to be an exciting project. With all of the options available today, you are sure to create a look that is unique to you.
RWC has relieved home improvement stress since 1959. Call us today or visit us on the web for your free consultation!