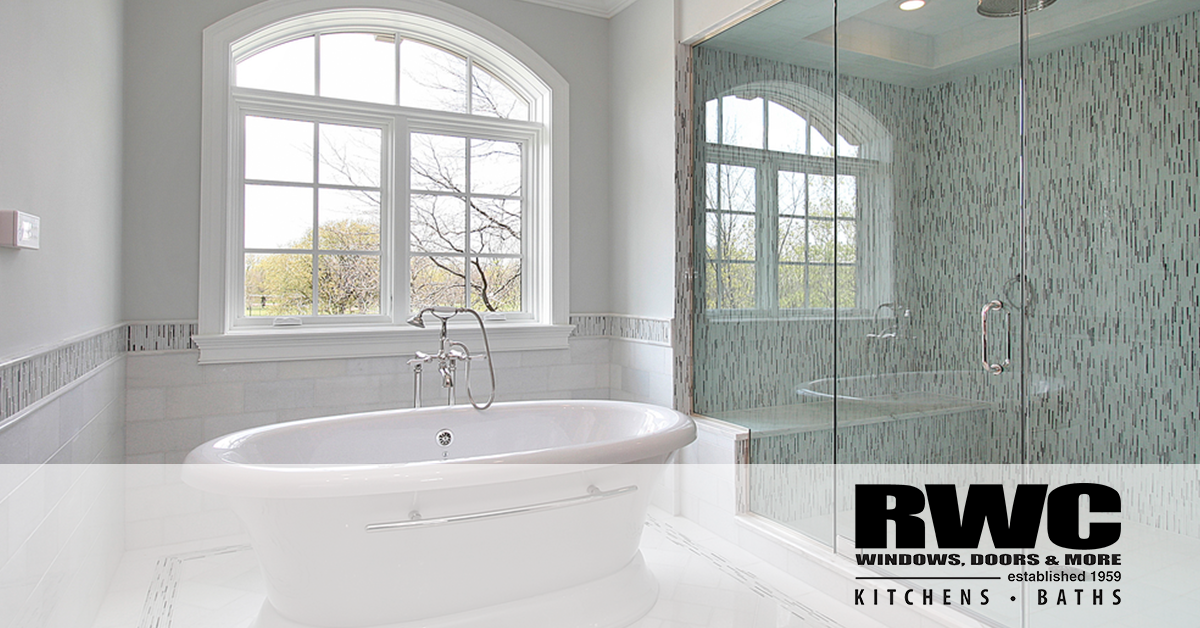 Introduction
There are many codes to follow when renovating a bathroom. Part of the process involves determining which parts of the bathroom can be replaced through grandfather clauses, and which parts have to be brought up to modern building codes. The rule of thumb is that if it met code at the time it was built, it can be maintained; new work has to meet new standards. For example, tempered window glass requirements in bathrooms were not always an absolute rule, but it is now — and code dictates window replacements meet certain standards.
Traditional Building Codes
In the past, building codes were far more relaxed than they are today. In some cases, the technology simply did not exist to make a house, especially the bathroom, as safe as it can be made today. Bathrooms are wet because of shower and bath steam, along with spilled water from the sink. In a most dire situation, a water leak can cause flood damage. Preventative safety codes are designed into bathroom requirements to minimize potential injuries and hazards in such scenarios. Building codes further provide demonstrable proof that the renovations were conducted at a professional level, and will meet the needs of most people.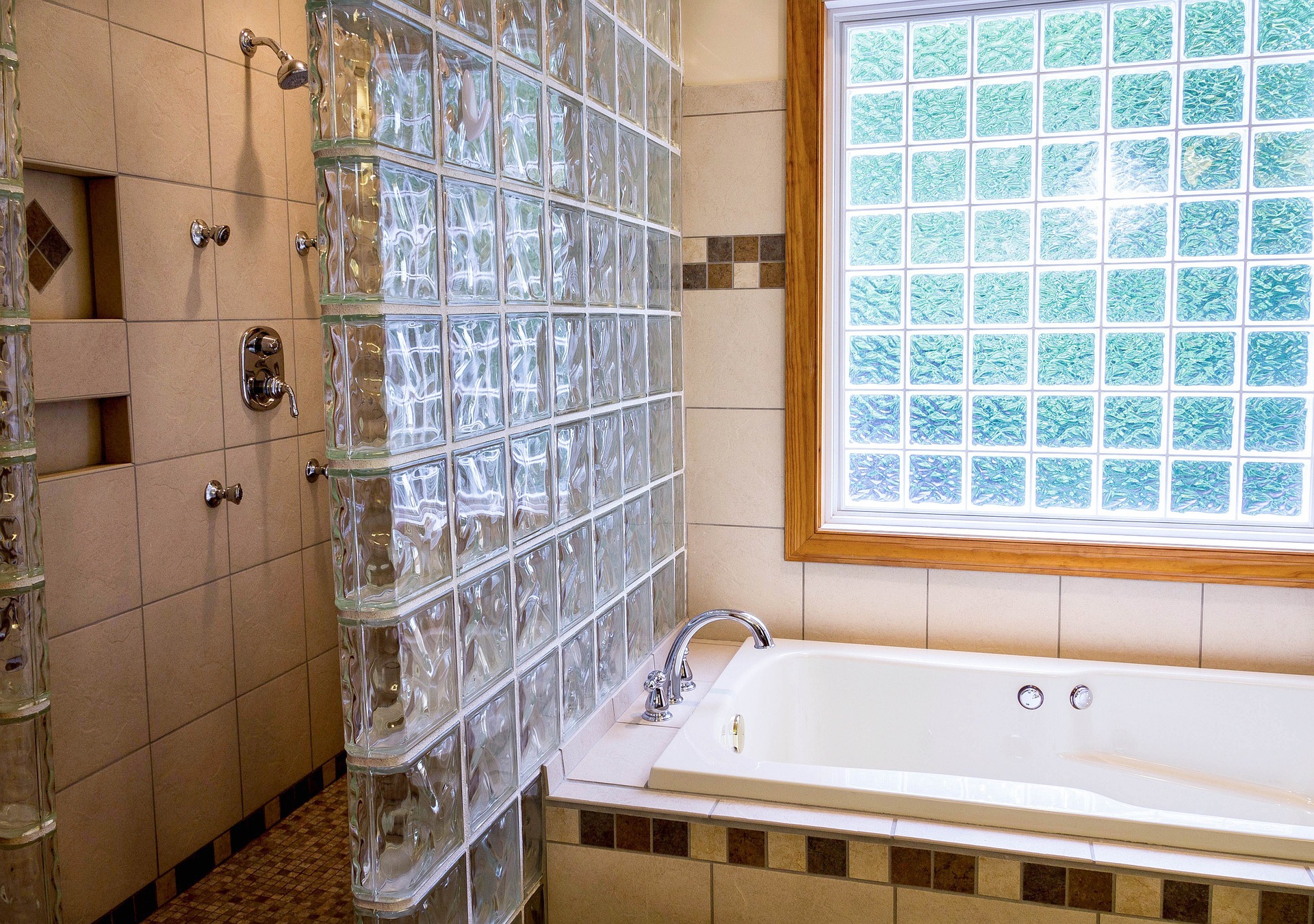 New Codes and Expectations
Most people understand the need for GFCI (Ground Fault Circuit Interruption) electric outlets. They have an internal circuit breaker that prevents electrocution in bathrooms, as a space that mixes water and electricity can be dangerous. Glass types are another code requirement. The glass for bathroom windows and throughout the entire room must be tempered, because floor surfaces in a bathroom become slippery and are a potential falling hazard. Although a fall itself can cause injury, injury can also be caused if a shower window shatters. For this reason, windows in a shower can be exceptionally dangerous.  This is just another reason why bathroom windows are based around safety precautions.
Design and Build a Beautiful Bathroom
No matter how nice a bathroom is upon initial home purchase, most people are going to want to remodel the room to their specific interior design tastes at some point — especially if they plan to live in the house into their retirement years. Alternatively, there might be a great deal available on a quaint older house that needs renovations to incorporate modern expectations. Either way, bathroom renovations are best done by professionals who are trained in the process and understand what works for most people, what looks the best in terms of luxury bathroom design, and what meets code.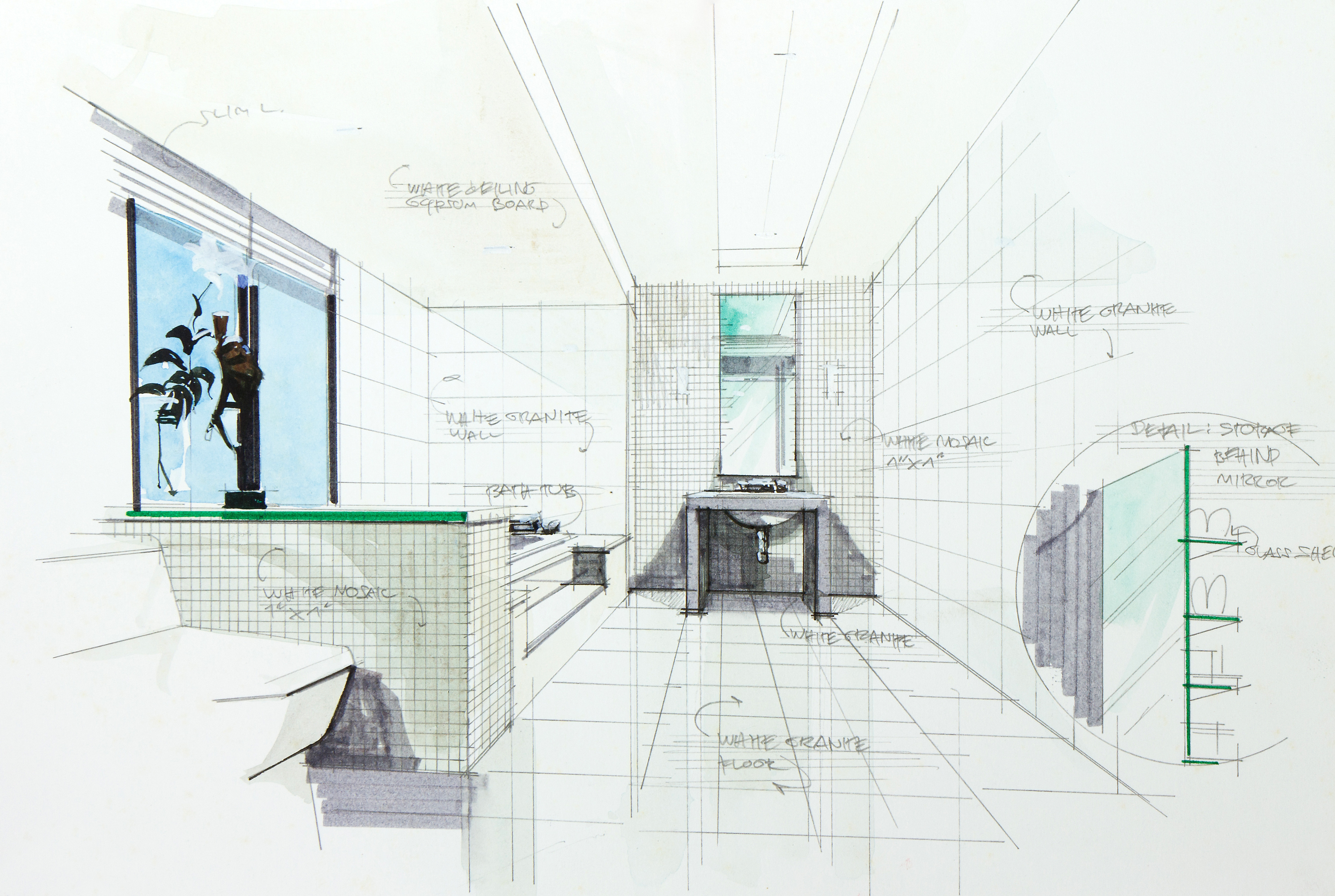 Why You Must Follow Building Codes
Some people wonder why they have to follow a building code, when they can potentially conduct renovations themselves for the same cosmetic effect without the expense of hiring a licensed contractor.
The first reason is that building codes are in place for a reason, which includes both the structural integrity of the home and how common accidents occur.

Nobody thinks they might slip and fall, but it happens, and unfortunately it tends to happen with elderly people and children who can suffer the most harm from such a fall.

Bathroom windows must be tempered to maintain safety

Unpermitted work that isn't up to code doesn't add value to the home. Instead, it detracts value as a sale will require the work to be removed and the bathroom be rebuilt.
Conclusion
Fortunately, there are amazing bathroom window ideas and options available for further bathroom renovations at RWC. Contact us at RWC Windows, Doors, and More to discuss with one of our professional representatives what we can do to make your bathroom more comfortable and beautiful for your own use while you live there and to add value to the home should you decide to sell.
*This is an updated version of a December 2018 post. Read the original post below!*
Bathroom renovations and remodeling projects add value to a home whether for your personal comfort or if you intend to resell the house, but such projects are only worthwhile if they follow construction code for bathrooms and windows. Work that doesn't meet code not only was conducted without permits and inspections, therefore being worthless, but may also have been conducted improperly. The only way to know for certain is to rebuild the renovations, making the house worth less than it was before the project started.
General Code Requirements
Code requirements for residential windows may vary slightly according to local law and weather conditions, but there are some general baseline requirements. A window might have met code when installed but doesn't meet current expectations of architectural design. In such a case, it is acceptable to leave the window as is when remodeling around it, but the window can't be moved or expanded if it doesn't meet current code. If a renovation alters the window's structure, the window has to be replaced with one acceptable by today's inspectors.
Specific Bathroom Building Code
Windows in general need to be made of tempered glass, which is a bit different than years ago when only upper story windows needed to be tempered and first floor windows could be regular glass. However, a bathroom is designated as a dangerous area, and thus needs extra protection according to bathroom code requirements, specifically, a protective glaze finish on the windows. There are several practical reason for such a rule. First is that moisture can make the floor slippery, leading to a fall. Secondly, steam can obstruct vision. Finally, should obstructed vision and a slippery floor lead to a broken window, people tend to be barefoot meaning broken glass has a high potential of causing a foot injury.
Window Options
There are several available window options, depending on the size and shape of your specific bathroom. Regular double hung windows are the paradigm standard, as they allow for ventilation and aesthetic properties for every situation. Alternatively, a garden window or bay window might add a luxurious feel to your bath. Clear glass provides a great view of a private lot, or according to your need for privacy, frosted or tinted windows may serve well to allow for natural lighting without letting your neighbors watch you bathe. Block windows remain a viable alternative but they are expensive, look dated, don't open to allow for fresh air, and rarely accomplish the goal the homeowner hoped to achieve.
What you Need to Know Before Starting a Renovation
As with any building project, make sure to use a reputable contractor who attains the proper permits and builds to code.

Be sure to verify what local code requires and make sure what you have planned is legitimate and will add value to your home.

Look into your options and make sure the new bathroom designs are going to accomplish what you want done whether making the bathroom more comfortable for your own use or as a means of enhancing the resell value of the house.
Conclusion
If you're interested in a bathroom renovation, give us a call at RWC. We specialize in kitchen and bathroom renovations, along with windows and doors, and are fully licensed contractors willing to address other projects you may have as well. We're a family owned local business who takes pride in the fact you'll find everyone who works for us, from the sales team to the designers to the technicians who conduct the work at your home, to be courteous professionals who are well trained in doing the job right and to your satisfaction.
*The post below has been updated since January 2018.*
When renovating your bathroom, adding a window or changing the location of an existing window to fit your new bathroom layout is a common issue. The additional fresh air from a quality window will aid in ventilation and help prevent mold problems that are notorious in bathrooms.
When considering bathroom window glass options, it is important to review the construction coding system standard. The MasterFormat construction code lists the general requirements of the materials that are used in homes and other structures. It includes 17 major divisions, of which Division 7 – Thermal and Moisture Prevention and Division 8 – Doors and Windows, are of importance when installing bathroom windows.
In 2016, Houzz.com conducted one of the largest remodeling surveys of over 120,000 American homeowner projects and found that kitchen/bathroom renovations accounted for nearly 50% of general contractor work. This trend will likely continue to grow as the most cited reasons for renovation versus buying a new home are:
To have a bathroom with custom features and layout

Adds significantly to the value of the home

A desire to remain in the same neighborhood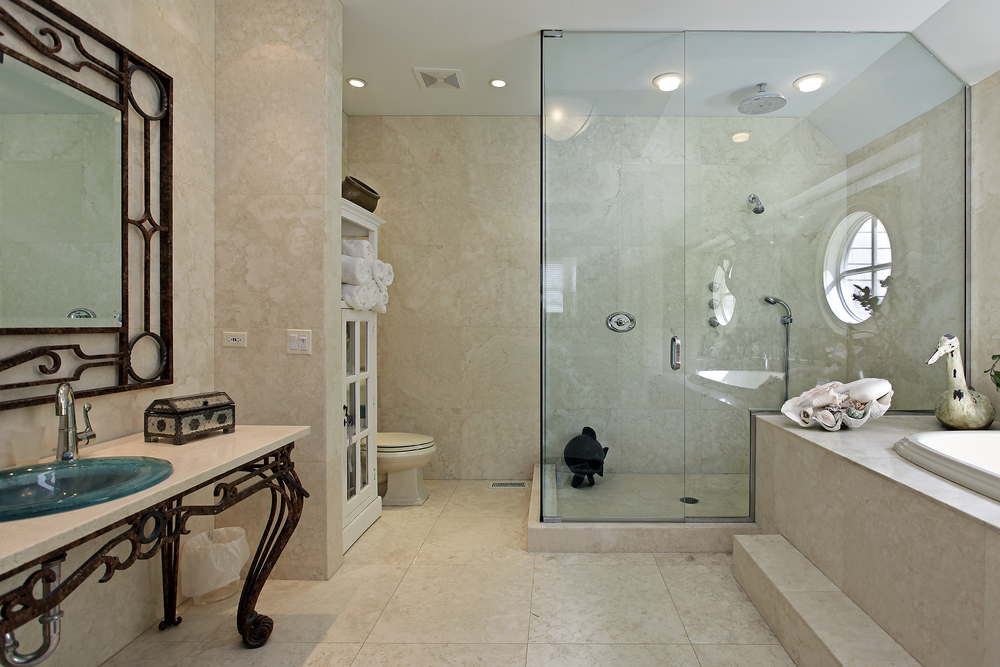 The Truth about Bathroom Windows
When you consider your bathroom window options, speak with one of our reputable bathroom or door/window installation contractors who can guide you through selecting the best window solutions for your bathroom. While adding windows enhances decor, natural lighting and fresh air, you should also consider the problems that may arise. Using the wrong type of window or an improperly installed window can cause serious problems.
Windows in the tub or shower area are prone to standing water, resulting in unhealthy, unpleasant rot or mold. Additionally, if the bathroom is not adequately ventilated, condensation on windows can freeze, weakening seals in the long term. For safety, bathroom windows may need to be tempered or safety glass. The building code should be referenced to determine the height of a window above the shower floor.
Adhering to the Construction Code
The New Jersey Construction Code for Windows in Rehabilitated Bathrooms (Subcode, N.J.A.C. 5:23-6) states that if you are replacing your windows only, then the bathroom is considered a "specific hazardous location," and that replacement glass must comply with 'safety glazing' requirements.
Conversely, if your fixtures will be replaced during your remodel (at the same location), then a pre-existing window is permitted to remain without the safety requirement. If fixtures are moved to new locations, then pre-existing windows must be changed to fit the safety regulations. Consult with a professional bathroom and/or window and door contractor to make sure your bathroom remodel adheres to the construction code.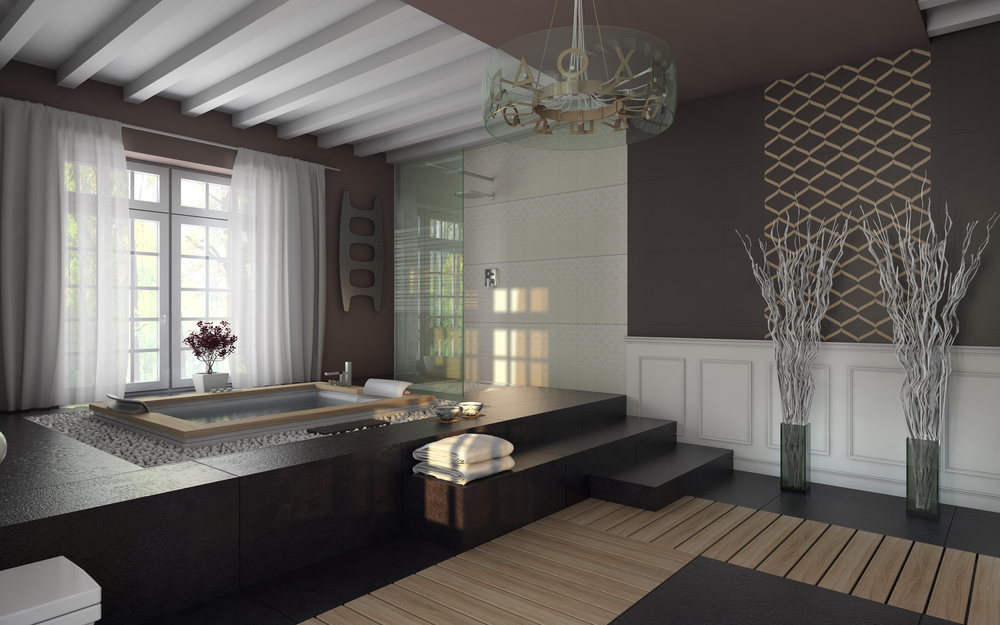 Bathroom Window Options
There are many options for attractive and functional windows for your bathroom remodel. If privacy is a concern, opt for frosted, patterned, or privacy glass. Consider curtains or blinds if you prefer sunlight but want to add just the right amount of privacy.
The bigger decision is what material and operating mechanism your new windows will have. Since wood absorbs moisture, a good fiberglass or vinyl framed window are the best option for bathrooms. If you desire a window that opens, a crank-operated window is a good option, as they seal tightly. A quality casement window hinged at the top is also another good option.
Takeaways
A bathroom window provides ventilation and reduces moisture build-up leading to mold

Refer to the construction coding system for safe bathroom window installations and materials

If bathroom fixtures are relocated, then the windows must be brought up to code

Choose vinyl or fiberglass windows over wood frames for a longer window lifecycle
If you are considering a bathroom remodel, or just replacing your homes damaged or molded bathroom windows, reach out to us at RWC Windows, Doors and More to speak with our knowledgeable staff.  We can also supply custom sized and shaped windows to fit every home remodeling requirement. Contact us today!