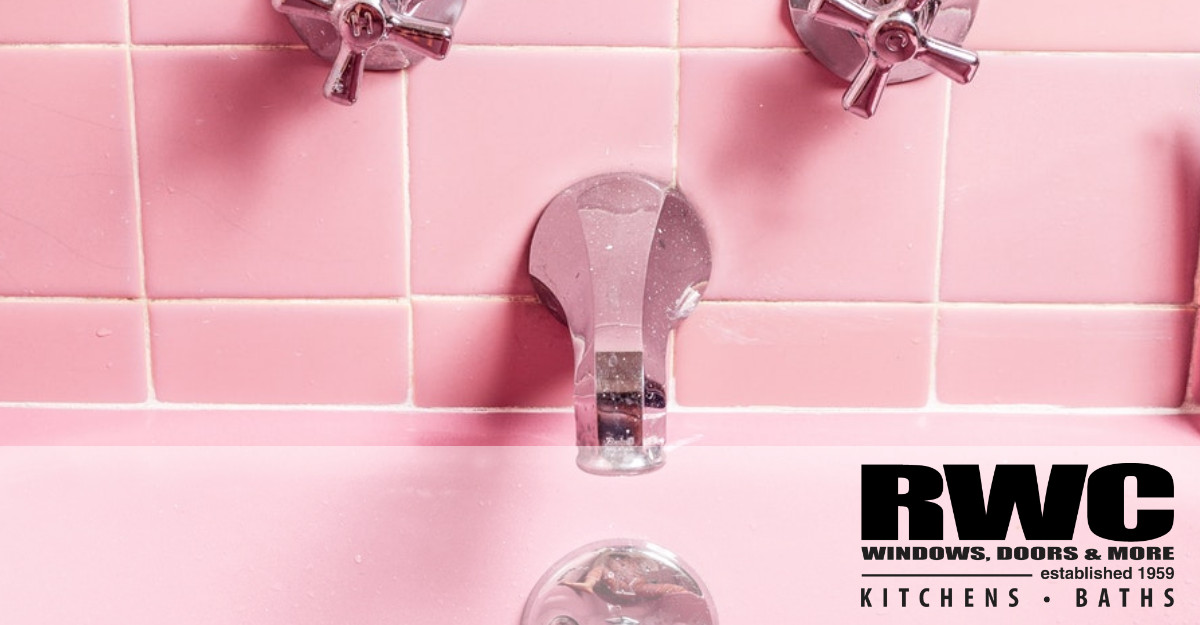 If you are searching for the latest bathroom trends, or bathroom trends to avoid, it can help to take a look back at bathroom trends from the past 60 years. Bathroom color trends 2019 and beyond are not the mauve and light blue that were popular in the 1950s. Trends change over the years, and this is why homeowners take the time to update their living space when they can.
The Use of Colored Toilets and Sinks
When you have a bathroom that has an olive green sink or toilet, you can thank the bathroom trends of the late 1960s and 70s. If you have an old carpet in your bathroom, you can also look to the 1970s for this particular inspiration. Colors change over the years. Bathroom trends 2019 minimize the use of color in toilets and sinks, with the understanding that it is the accessories that really make the difference. 
Color trends for 2019 are really the absence of strong color patterns. Designers are going for black and white bathrooms, or those with a white and wood color combination. While some pops of color might be present, this is usually in the decorative aspects and not with the bathroom walls, floor, sink or toilet. This makes it easy to change the entire look of the bathroom without having to make big structural changes.
Patterns and Large Tile
The late 1980s and 1990s were all about large tile and geometric patterns when it comes to bathroom design. If you have a brightly colored bathroom with large square tiles on the floor in black and white or neutral tones, your bathroom was probably last renovated in the 1990s. Geometric patterns were also popular in the 1990s.
Neutral Colors and Dual Sinks
There is convenience in having side by side sinks in your bathroom, and homeowners today are loving this trend. While the sink isn't going to be the pink or orange of the 1960s, a great looking side by side sink can still make a statement. Sinks made with a wood surround and sleek, industrial hardware are popular in 2019. When it comes to choosing a bathroom design in 2019, think minimal, neutral and streamlined. 
Bathroom Trends of 2000 and Beyond
The bathroom trends from 2000 began to take the bold, large patterns of the 1990s and reverse the pattern. Lots of tile was used, any many people loved using subway tile in a variety of ways in their bathroom. Colors became more muted by 2000, and homeowners were more interested in the function of the bathroom, not bright colors. Trends looked at higher end bathtubs and hardware, giving the bathroom a more updated look.
At RWC Windows, Doors & More, we have been following the latest bathroom trends for decades and we know how to help you get the bathroom of your dreams. We offer a full line of bathroom remodeling products to give you the best in 2019 bathroom designs. Bathroom trends of 2019 include:
A focus on functionality with the use of dual sinks.

Minimal design elements for a sleek look.

Neutral, black and white and wood tones.

Remodeling to make the bathroom larger and accessible.
No matter what you have going on in your bathroom right now, we are ready to help. We provide design and bathroom remodeling services for residents in West Caldwell, NJ and the surrounding area. Call us today at 973-435-4230 and set up a free consultation. We will talk to you about your renovation plans and design a bathroom that is right for you.