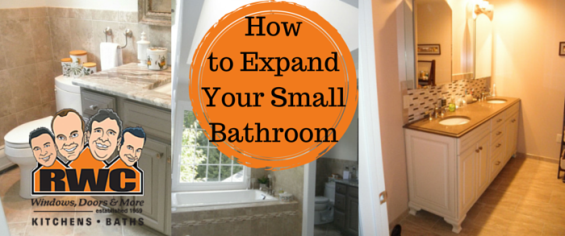 Having a small bathroom can be frustrating and can really cramp your style. But, fear not, there are ways to make your small bathroom appear larger. Read below to see how to do it without having to use a sledgehammer.
Tile all the way up
One way on how to make a bathroom look bigger is to make wise use of the tiles in the shower area.  Having them go all the way up to the ceiling will give the illusion of more space. Often a tile-layer will stop an inch below the ceiling and finish the area off with an edge. However, this practice creates an unnecessary transition in materials that accentuates the lack of space. Further, this procedure can cost more than simply laying the tile all the way up to the ceiling.
Choose the right tiles
Small subway tiles are great, and they have their place. But, it is not in a tiny bathroom. Small tiles require lots of grout lines that break up space and make a room look smaller, which is the opposite effect you want in a small bathroom. A better option is to use bigger tiles that require a minimal amount of grout lines. Using bigger tiles will create one long line that extends the entire wall, which will give the illusion of more room. Try to stick with the same tiles throughout the room as well to give it a feeling of unity and cohesiveness that will exude a feeling of spaciousness.
Use clear glass in the shower
Having a clear glass door on the shower will also create the illusion of additional space because it will allow extra light to come in. Using a textured door will give the appearance of an additional wall that makes the small space appear even smaller.
Use recessed cabinetry and shelving
Cabinets and shelves that protrude into the room can take up a lot of space. But, by recessing them into the wall extra space is created. Although the few inches that are gained might not seem like a lot, in theory, when it is put into practice, they make all the difference in the world. Creating recessed cabinetry and shelving is most easily done during an initial build. In order to retrofit them, walls will need to be reframed. But, for the space you will gain, it is worth the effort.
Install a pedestal sink
Pedestal sinks have far less bulk than a traditional vanity does. Removing an old bulky vanity and having a new pedestal sink go in its place will open up a lot of space in a small bathroom. Also, a pedestal sink or two can create a feeling of luxury that a small bathroom often lacks. Adding a tall, skinny cabinet behind a pedestal sink will help you replace the lost storage space you had with a traditional vanity without taking up too much space.
Swap out the door
Standard hinged doors take up an amazing amount of space. They require a lot of room to swing back and forth. Replacing hinged doors with pocket or folding doors is a great idea that will make a small bathroom appear larger. Pocket doors tuck nicely into the wall where they are safely out of the way and not taking up valuable space. Also, when they are open, they can add an element of depth to the bathroom. Similarly, folding doors can make a small bathroom seem more spacious, as they require less room to operate than a hinged door does. This is a key to small bathroom remodeling.
Add light
Light is a necessity when it comes to adding space to a room. Adding artificial light by adding accent lighting and strategically placing mirrors is an easy way to add more light to a small bathroom. The light that bounces off of mirrors and other shiny objects will add dimension and scale to the room. Bringing in natural light is even better than the artificial variety. The presence of natural light brings a feeling of warmth and comfort to even the smallest spaces. Adding a large window or a skylight to a small bathroom can bring in an extraordinary amount of light and make it look like it is fit for a king.
Being stuck with a small bathroom does not have to be a death sentence. Using some tricks and techniques and making some small structural changes can make even the smallest of bathrooms objects of envy. Creating a bathroom with the illusion of space is best done with the assistance of a professional, like the folks at RWC Windows and Doors. We have been a family owned and operated business for three generations. We are dedicated to providing our customers with a unique home improvement experience. Contact us today to see how we can serve you!