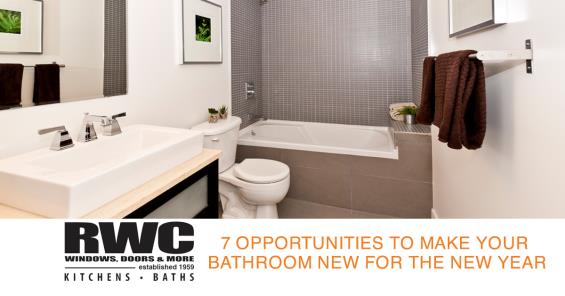 The start of a new year is a great time to finally get those bathroom renovations you've been wanting done. It will refresh your home while providing the added benefits of a new better bathroom. Here are some excellent places to start:
1. Toilet 
Toilets are pretty basic, so they tend to only be replaced when they fail. A failing toilet involves either the cracking of the tank and bowl, or a collection of mineral staining that is no longer tolerable.

Although toilets are basic in function, there are many design variations for this standard fixture. If you do need a new toilet, it's worth putting some extra attention into it. Retro designs have become popular, these typically involve sides that are shaped as if a curved pipe is just below the surface. If retro is not your style maybe a more modern look with a smooth-sided commode is right up your alley.
2. Shower
Standalone showers are currently in, but for some bathrooms, the standard tub/shower combo still makes the best use of the space. Either way, they can be made in ways ranging from extra-basic all the way to luxuriously fancy. Note that the impressiveness of a shower usually has little to do with the shower fixture itself. Instead, it's all about the walls, floor, and door. For a more upscale look go for some beautiful stone walls with a clear door. If minimizing maintenance is what you are after, ceramic tile walls with a shower curtain should do the trick.
3. Sink
There is a surprising array of bathroom sinks to choose from. You can stick with a basic porcelain one, or you can be adventurous and get a coated copper basin, a counter with a sunken granite sink, or any number of other versions. The main thing to keep in mind for your sink is the functionality and its usability. Be sure that the faucet position, basin size, and other attributes will work for how you intend to use it.
4. Backsplashes
The functional purpose of backsplashes is to keep splashed water from ruining the wall behind your sink. They can also be an important aspect for the all around design of the bathroom as well. You can have a new backsplash put in to go with a new vanity or countertop you installed. For modern bathrooms granite and ceramic tile are the most popular choices for backsplashes.
5. Vanities
Some decor styles work better with vanities than the traditional counter tops. A vanity can stand on its own and may or may not include a sink. Providing enough room for cosmetics and other sundries. Vanities can also have a cabinet or two beneath its top surface. These are especially popular in retro bathroom designs, but modern style bathrooms use them too.
6. Walls
Bathroom walls are usually painted, but there's no need to stick with this style. You can have your bathroom walls tiled for a new fresh look. Bathroom wall tiles are typically smaller than ones used elsewhere, but there's no need to stick with this style. Large stone wall tiles can work just as well and can provide a more upscale look.
7. Floor
This is one of the easiest areas to forget about, but it's actually one of the most important. It's very visible unless covered by rugs, so it's a good idea to put some serious thought into it. Make sure to use sealed tiles like glazed ceramic in this room to avoid staining. Since this is for the bathroom it is best to go for a material that has a non-slip texture as well.
These are just some of the many ways you can upgrade your bathroom in the new year. For more ideas, professional designs, or installation, contact us here at RWC in New Jersey. We'll be glad to come out and discuss your plans, give you a quote, and then get started on freshening up one of your home's most important rooms today.