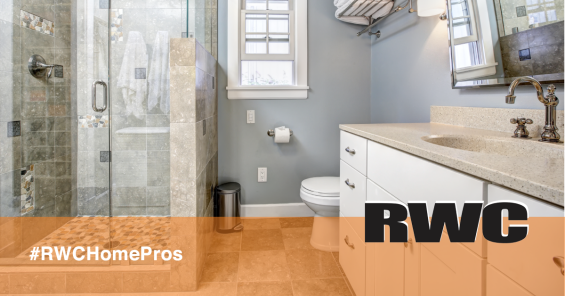 A bathroom has a surprising number of essentials for its size, so when it's time for a bathroom remodel, it pays to give heed to all of these elements. This will ensure that the final result is visually cohesive as well as functional. The added bonus is that everything is new, so you won't have to worry about fixing one thing after another. Here are six of the top aspects to pay attention to, along with the floors, walls, and ceiling:
1. The Toilet
The toilet, rather than the bathtub or shower, is what most people actually think of when they hear the word "bathroom." Yet at the same time, the literal fixture is typically taken for granted. It may be surprising to learn that there are many options to consider!
Toilets actually have styles and the chosen one will determine whether your bathroom looks new, ultra-modern, or vintage.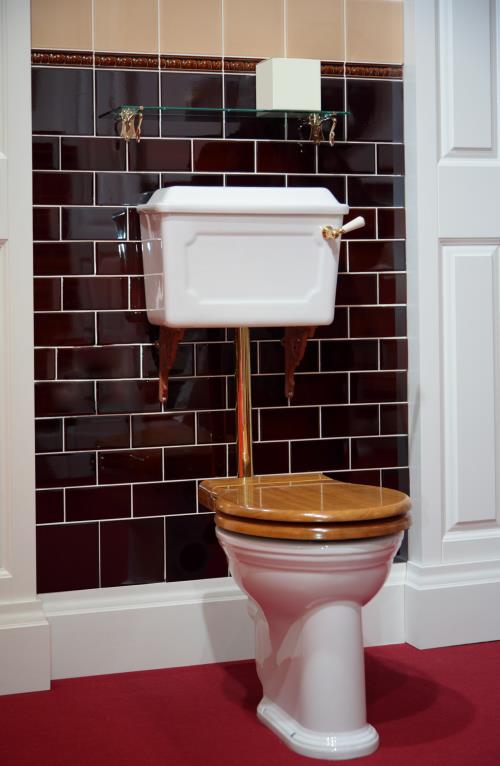 There are different options in height, seat circumference and flush activation. If you just want a standard toilet, that's fine – but if you'd rather have something else, be sure to consult your bathroom renovation experts at RWC to help you find the perfect fixture for your style and preference.
2. The Sink
The sink is another fixture that has many options. Choices include a recessed sink, a free standing bathroom sink or even one that's built into the countertop. There are various colors and materials to choose from too; ranging from upscale granite to utilitarian fiberglass. Finding a color and material that fits with your bathroom's style is important for enhancing the appearance of the room, but it's also suggested to choose a material that can handle some scrubbing since bathrooms should be cleaned often.
3. A Vanity
Not all bathrooms have vanities, but if you choose to utilize one in your space, the sink will likely be part of it. By combining the sink, extra storage, and grooming area into one unit, you can save valuable space later on. An alternative to a vanity would be a countertop along one wall with cabinets beneath. This option serves the same purpose as a vanity, but typically provides more surface space.
4. The Mirror
A bathroom mirror should be versatile enough to accommodate the teeth brushing, makeup application, shaving and outfit selections it sees on a daily basis. A good bathroom mirror is big enough to give you a good view of yourself, but close enough to see smaller details. It should be placed at a good height so that you don't have to crouch down or stand on tiptoe to get a good view.
While the reflective part of a mirror gets the attention during use, its frame will draw the eye at other times. Go for a frameless model if you want a sleek look or choose a frame specific to your desired decor type. Don't forget to use task lighting at eye level for flattering, shadowless illumination!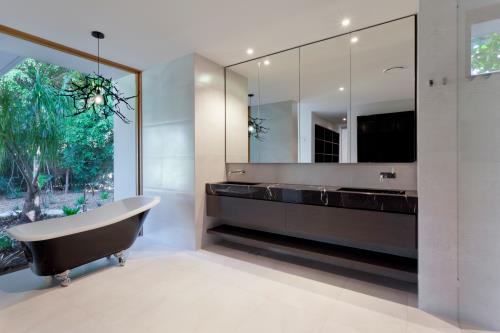 5. The Shower and/or Tub
The latest bathroom trend calls for a separation of the shower and tub.  Big, luxurious soaking tubs and large separate shower stalls are created for these spaces.  The separation allows for bigger walk in showers and soaking tubs than a typical shower tub combination.  For smaller bathrooms, the tub/shower combinations is still one of the most popular options.  To get the luxurious feel of a walk in shower, select a shower tub combination with sliding glass doors and add a high-quality shower head.
6. Storage
Bathroom closets and built-in drawers are great for storage. They allow things to be kept organized while hiding them from view of guests. For larger bathrooms, install cabinets, storage shelves, or a similar option that's large enough to hold all your towels and related linens. For small bathrooms, narrower, freestanding shelving will work well without sacrificing space.
If you need bathroom remodeling in or around West Caldwell, NJ, be sure to contact us here at RWC. We have decades of experience with projects just like yours, and will be happy to design and install your new, upgraded room for you.