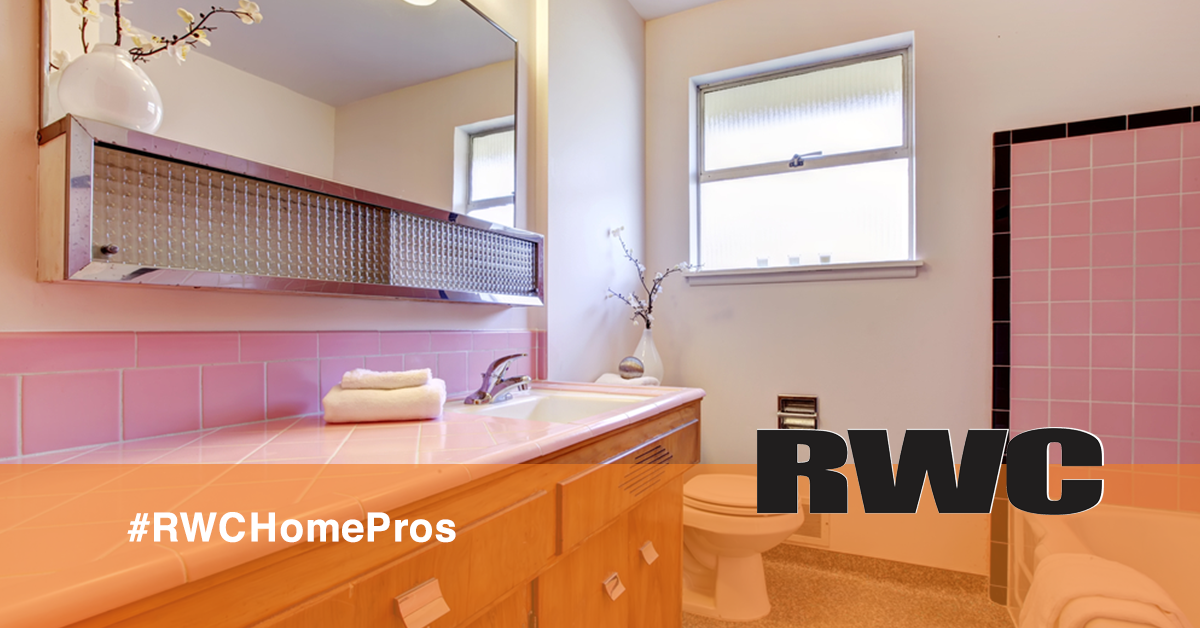 While a variety of bathroom trends that have come and gone, few have stood the test of time.  Unlike the sleek, white subway tiles popular today, bathroom tiles were once brightly colored squares of sea foam green, orange and pink.  If you've purchased a home that hasn't seen any updates in the last forty years, it's time to rethink that retro bathroom. Take a trip down memory lane and look back at some of the worst bathroom designs and how to update them for today.   
Pink Sinks and Toilets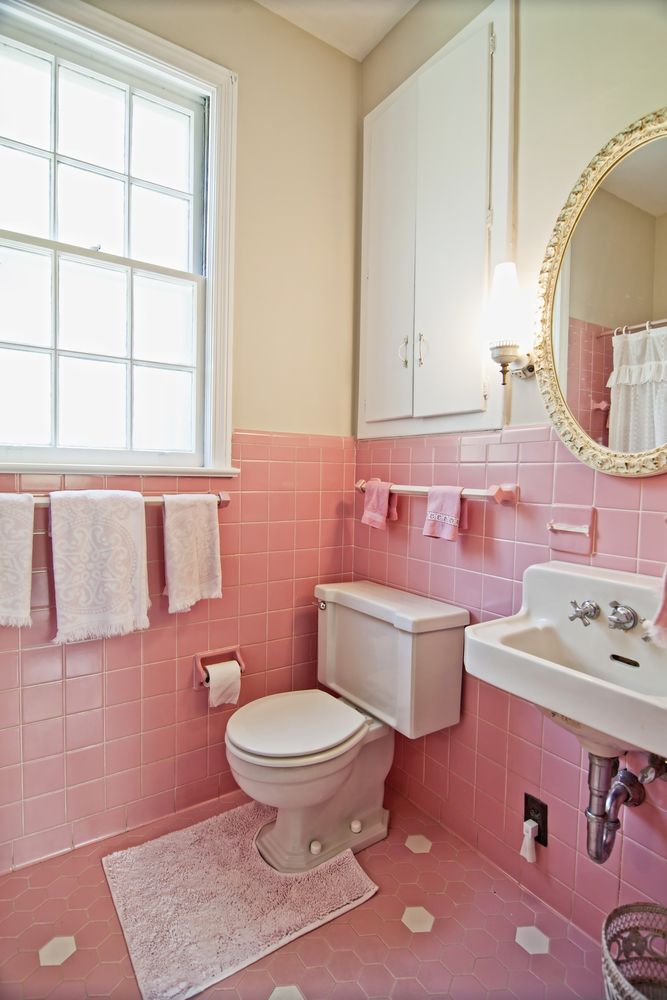 The trend: Used in mid century America, pink was a popular bathroom color throughout the United States.  First Lady, Mamie Eisenhower was partially responsible for the popularity of pink, as she redecorated most of the private quarters of the White House in shades of pink.  Reporters even started calling the White House the "Pink Palace!"  When you see a bubble-gum pink shower surround or toilet in your home, you can be sure that the bathroom probably hasn't been renovated since the 1950s.
The update: The modern update for bathrooms today are clean looking hues, generally shades of white and cream. Replace the toilet and tub with new white models to give the bathroom a fresh look.  Or, replace the tub altogether and build a large shower stall with a bench and shower niche.
Carpeted Floors
The trend: Wall to wall carpeting is reminiscent of the post WWII era. From the living room, to bathroom, carpeted floors were everywhere.  While carpeting in bedrooms is a great idea, carpeted bathrooms often lead to issues. The threat of mold and mildew in the carpet is a concern due to the elevated water and moisture levels in the bathroom. Post shower, the carpet is absorbing most of the water spilled onto the floor, causing it to get trapped and promote the growth of mold. While carpeting is a non slip option, there are other alternatives to consider.
The update:  A modern solution for carpeted flooring is to remove the carpeting and replace it with tiles or laminate flooring. Tile or laminate flooring offered today are made to look like more expensive materials and textured non slip options are available. Once the carpet is gone, use a washable bathmat to collect water when you step out of the shower to avoid mold and mildew growth.
Laminate Countertops
The trend: In the 1970s, Formica countertops were available in almost every color you could imagine.  Due to their range of colors and low price point, these were used in bathrooms everywhere. If you have an aqua colored counter in your bathroom or a scalloped sink, you can rest assured that the bathroom hasn't been updated since disco ruled the radio.
The update: Give your countertops a more modern look by choosing vanity tops in neutral, subdued hues.  Consider spending a little more to update the cheap laminate to granite, marble or quartz countertops.
Terrible Tile Patterns
The trend: Tile is a great option for the bathroom because it is water-resistant. Unfortunately, many of the colors and designs used in the past included pea green or ugly brown tiles in patterns that were less than desirable. The most popular tile trend in the bathrooms stacked colored squares placed in a gridded pattern halfway up the wall and complemented with an accent border.
The update: Tiles are still trendy! However, the colors and patterns have changed. Update your bathroom using white subway tiles in a brick, herringbone, or vertical patterns. Choosing a different grout color such as gray makes your tiles stand out and gives the bathroom a modern look that will be suitable for years to come.
Bold Floral Patterns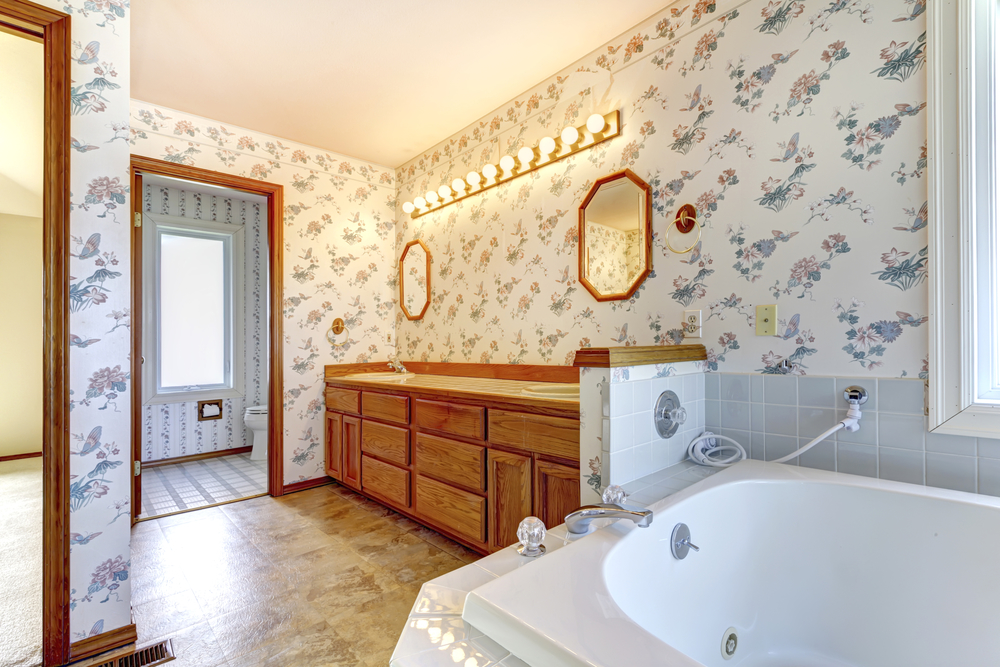 The trend: In the 1960s, wallpaper in large floral patterns became popular in bathrooms.  In the 1980s, bright floral valances and accessories were made popular, extending the floral trend for decades.  Like carpeting, wallpaper also has its issues in regards to moisture.  The extra humidity and moisture in the bathroom can cause the wallpaper to peel.
To update: For an updated look, exchange the big florals and wallpaper for touches of natural materials.  Replace the wallpaper with a new coat of paint and use natural accessories. For a natural, Zen feel, choose materials made of bamboo, cotton, or other organic materials. Image 38744609
Bathroom design changes can include:
Replacing pink toilets with white ones

Switching carpet for tile

Bright colored countertops to more subdued countertops

Choosing different colored tiles and patterns

Removal of floral patterns in exchange for organic materials
To learn more about how you can remodel your outdated bathroom, call RWC Windows, Doors & More at 973-435-4230 and talk with one of our representatives today.