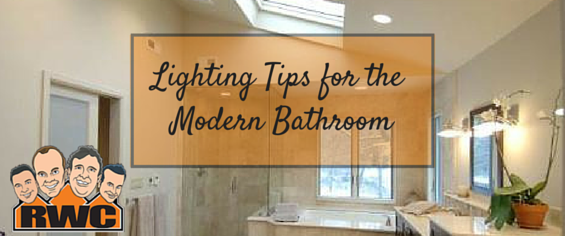 Lighting is one of the most important elements of a bathroom. Without adequate lighting, it can be difficult for home dwellers to get the most optimal use out of the space. It is important for lighting to go beyond being functional. The right lighting can provide both the proper mood as well as a modern and updated look. Keep reading to learn how to make the most out of lighting in a modern bathroom.
When thinking about adding lighting to the bathroom, do not limit yourself to ceiling lights. One great way to add light in the lavatory is to install lights that flank the mirror. Ceiling lights provide ambient light, but a bath bar or vanity light on the side of the mirror provides great light, especially for morning routine activities such as brushing teeth, flossing, applying makeup, and shaving. Side lighting is ideal because it reduces shadows while providing adequate lighting for detailed tasks.
Use natural daylight as a guide
Generally, we look our best in natural light. Sunlight has a way of bringing out the true color tone of the face, and naturally highlights makeup.  Mimicking this idea in the bathroom is a great idea, as it will provide you with a good idea of how you will appear after you walk out the door. The first step in achieving this look is to choose white shades for the fixtures. Keep in mind that white does not need to be boring; they can be clear or frosted, or any other incarnation of a white shade. The bulb choice is also important for achieving a natural light look.
If you are using incandescent lights, they should be either warm or cool white or have a color temperature of 2700K and 3000K.

If you are using compact fluorescent bulbs (CFLs), make sure their Color Rendering Index (CRI) is at least 90. This measurement will assure they are displaying color, in the same way natural light does. The color temperature of the CFL should also be between 2700K and 3000K.

If you are using light emitting diode lights (LEDs,) you need to pay close attention to their brightness, as you do not want to choose a bulb that is too bright. As with the other types of bulbs, the color temperature should be between 2700K and 3000K and have a CRI of at least 90.
Layer the lighting
Ideally, the lighting in the bathroom needs to adjustable, so it provides the right amount of light whether you are getting ready for work in the morning or taking a relaxing soak in the tub in the evening.
One way to guarantee that there will always be an appropriate level of light is to install a dimmer. Using a dimmer will always give you the power to control exactly how much light is flowing into the area. It used to be that dimmers were only available for incandescent lights. However that is no longer the case. Dimmers can be installed and used even with energy-saving CFLs and LEDs.
Another way to adjust the amount of light in a room is to choose decorative fixtures for the ceiling light. Small chandeliers and semi-flush ceiling lights are both great ways to set the mood in a room.
Light fixtures can often be overlooked. In fact, many people just continue to use whatever the previous owner of a house had installed. Even homeowners who designed a bathroom from scratch do not generally change their light fixtures. The result ends up being a dated look that is still present long after the fashion has gone out of style. Simply updating the lighting fixtures can give new life to a tired-looking bathroom. Changing out light sconces is an easy and affordable change that can make a big difference. In the past, sconces could only be found in ultra-traditional styles. That is no longer the case. Sconces have become more sleek and modernized. Many sconces are available in modern styles such as blown glass or stainless steel designs that fit with most modern decors. Another great fixture choice for a modern bathroom is pendant lighting. These lights give a soft, updated look to any bathroom.
The right lighting choice can set the entire mood for a room. It can turn a simple bathroom into a relaxing spa. Consider placing some dramatic lighting over the bathtub. A small antique chandelier can turn an ordinary bathtub into a haven to escape to at the end of a stressful day.
The bathroom is one of the most-used rooms in a home. It is important that it is adequately lit for both utilization and style. Take some time to consider how the bathroom should be lit as well as how you want the finished project to look.
If you need advice on how to add modern lighting to your bathroom, contact RWC, our friendly and qualified staff can help give you the modern bathroom of your dreams.